Special Needs Programs Year Round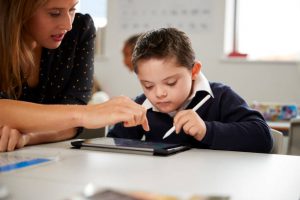 Is your special needs child still struggling despite having an IEP that provides accommodations? The Math Plus Tutors team runs a year-round program with trained tutors to offer specialized help to your child in a supportive learning environment.
Whether they need help in Math, Science, English, or other subjects, we're ready to help. Not only do we teach academic skills to your child, we will work with you on exploring new opportunities, techniques, and technology to better leverage your child's educational experience. We want to help your child develop to their full potential!
Our programs include Math Plus Junior, High School Prep, as well as University and College Prep. See below for our specialized STEPS program for young adults with special needs.
What our Special-Needs Program Offer
Comprehensive assessment of student

Determination of most effective learning style(s)

Development of a learning strategy (aligned with an existing IEP)

Training to use existing personal devises as assistive devices for learning

Technological advantages (iPad, E-reader, Wii, sensory motor materials)
What to Expect From Our Team
At Math Tutors Plus, we take a holistic and comprehensive approach to helping your child succeed. You can expect the following from our team, before and during your tutoring program. We will:
Provide a consultation meeting with you to review any current or past IEPs or psychological assessments that you have brought with you

Conduct an assessment with your child, based on your application and the information we gathered during the consultation

Develop a plan with learning strategies based on your child's learning style, strengths, and areas of need

Collaborate and work with you and your child to implement this plan

With your consent, we will work with your child's school and other service providers to harmonize your child's learning across the board

Help facilitate your child's transition from elementary to high school and high school to post-secondary education
Courageous Creativity Classes (the CCC - Program)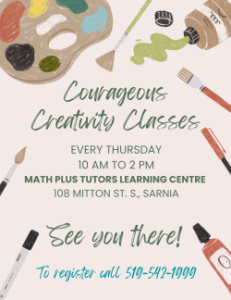 Do you find yourself being pulled to a creative pursuit, but don't know where or how to get started? Courageous Creativity Classes will take you through five simple steps to unlock your creativity, and find your joy for creating! Courageous Creativity Classes; an Expressive Arts' program for young adults with special needs.
The CCC-program new intake is now open for the fall term registration. This term we are offering a Fall-Christmas themed class of 12 sessions. The Fall program starts on Sept 21 and runs every Thursday 10am - 2pm until Dec7. New and old participants are welcome to join in as we're prepared for blended learning.
Please note that our classes are offered as a small group only (6-8 participants). Registration will be done on a first come first served basis. For more information about this program contact us or download the registration form here! Registration deadline is September 19, 2023.
A quick peek at our first Spring Class for the CCC - Program
STEPS – (Stimulating Training Empowering Personal Success)
For our young adults with special needs, Math Plus Tutors offers a new program called STEPS (Stimulating Training Empowering Personal Success). This program empowers participants to have satisfying and productive lives by building the necessary skills to live independently. When they have the right skill set, they develop the confidence required to be successful.
"The best part was that Math Plus Tutors takes the students step by step until they understand perfectly. It's a great experience!"
- Maisaa - Care giver, STEPS one-on-one

STEPS participants can expect the following advantages from Math Plus Tutors:
Our instructors speak many languages including Arabic, French, Hindi and Urdu

A small group in a quiet setting

Fully accessible location

One-on-one instructions
*Fees for this program are eligible for funding provided by Developmental Services Ontario Passport. For more information on our STEPS program, click here to download program brochure.
STEPS for the Workplace
Are you a young adult looking to enter the work force? Whether it's a part-time after school job or a full-time career, STEPS for the Workplace can help. This program is a highly focused version of our regular STEPS program, aimed at helping young adults with special needs develop the skills required to join the work force.
Instead of teaching academics, the STEPS for the Workplace program will pivot to help participants develop and build on their vocational and literacy skills to help prepare them for the workplace.
For more information about this unique program, click here.
MPT PLEDGE FOR CLIENTS WITH SPECIAL NEEDS
We believe that you are unique and so is your learning style.
We will work with you to explore the best methods of learning.
We will build on the work done by other service providers and endeavor to make your learning experience enjoyable and fruitful.