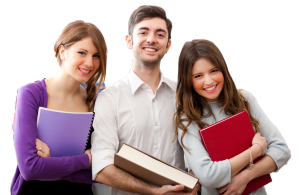 High school tutoring is one of our specialties because it's really 'where the rubber meets the road' for most students. In elementary school, students advance to the next grade regardless of their weaknesses in a certain subject. In high school, three's no advancement unless there is a passing grade. And there's no college or university without good grades for entry into highly competitive post-secondary colleges and universities.
Math Plus Tutors offers one-on-one individualized tutoring for your struggling student. We start by identifying their specific academic needs and areas of strength, and then design a customized program that benefits your child. This provides your teen with the focus and personalized attention in certain areas that they may not receive in the classroom or a group-tutoring setting.
"I liked the one-on-one option and the quiet & relaxed atmosphere. This experience gave my son the opportunity to voice his concerns in a constructive supportive atmosphere."
-Shirley - Grade 11 Math; Parent

How Does Our Service Work for You?
Our highly qualified tutors use a variety of teaching methods to re-teach the content in the identified subject areas that your child struggles in. We don't just show them how to do their homework, we help them fill in the missing gaps and teach them how to apply this new knowledge. We take pride in breaking down the most challenging concepts into simpler instructions and encouraging the student to make connections to their prior learning. This allows them to gain confidence and develop their self-esteem and resiliency to further succeed.
We can help students with:
• Math (Calculus, Advanced Functions, Accounting, Data Management)
• Science (Physics, Chemistry, Biology)
• English
• French
Interested in enrolling? Simply
Contact us
today!